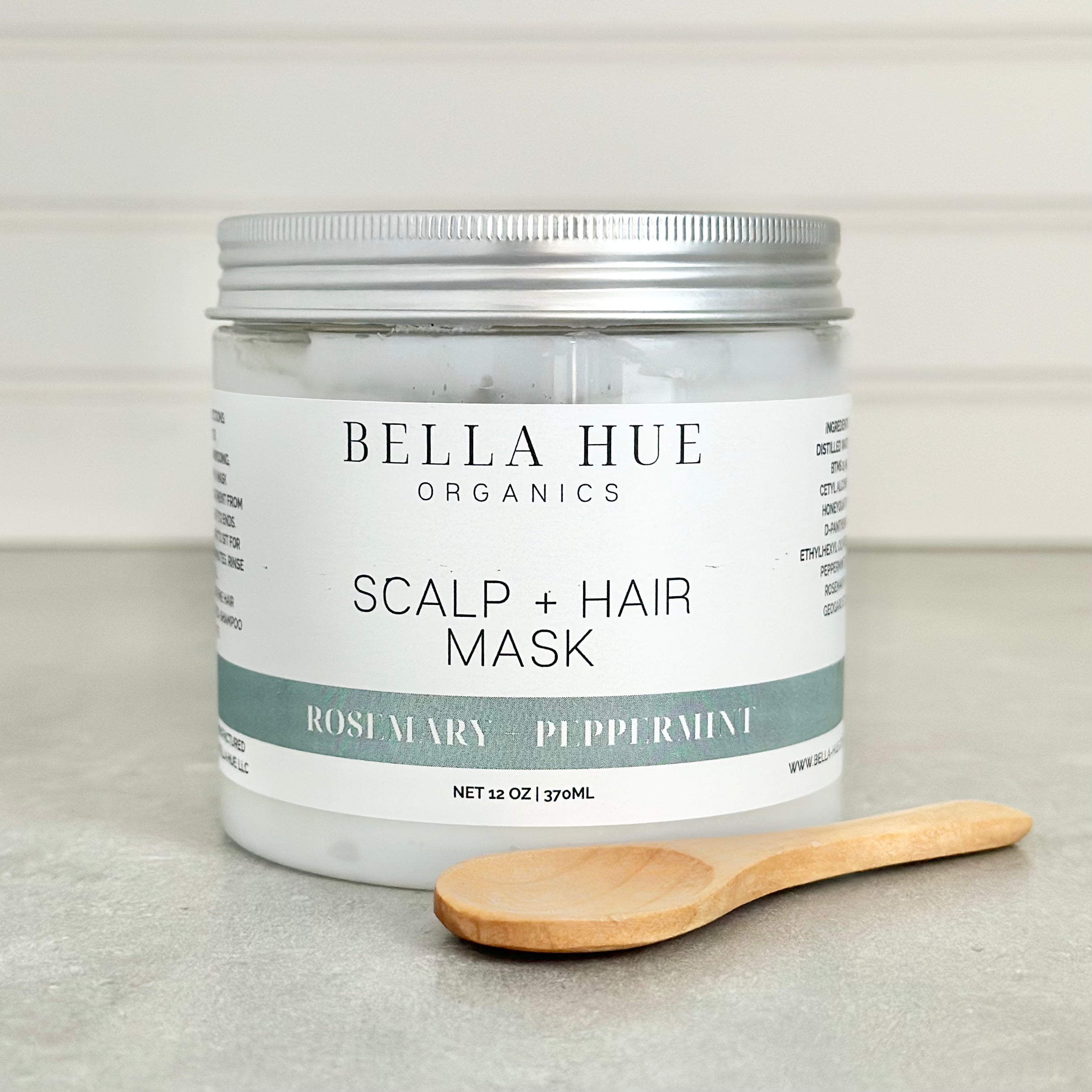 NEW- Scalp + Hair Mask
---
Dry weather causing your scalp to itch? Our new Scalp + Hair Mask restores moisture to your dry locks while improving the health of your scalp.
Just a few of our key ingredients and their benefits:
Rosemary oil is rich in antioxidants acting as a natural anti-inflammatory and anti-fungal , improving scalp health and strengthening hair

.



Peppermint oil- helps to reduce redness and kill bacteria that can cause itchiness while nourishing the  hair follicles, improving strength, and elasticity.

Honeyquat- Natural ingredient that adds great moisturizing, conditioning, shine and luster.
Btms50-Adds intense moisture while reducing frizz. 
Pure + Simple
Ingredients
Distilled Water, Btms50, Btms25, Cetyl Alcohol, Honeyquat, D-Panthenol, Oat Protein, Ethylhexyl Olivate, Peppermint EO, Rosemary EO, Geoguard ECT.
After Shampooing hair, apply mask treatment all over. Massage mask into root area, allowing to sit for at least 10 minutes. Rinse well. (For oily hair types, you may need to follow up with a gentle shampoo cleanser just at the root area) Repeat weekly, or as needed.
Q: How long can I let it sit?
A: At least 10 minutes is required to enjoy the benefits, but the longer the better! Try applying before bed and allowing to sit overnight.

Q:I have oily scalp, but it itches. Is this still okay to use?
A:100% yes. Just make sure to shampoo the roots after rinsing the mask to avoid greasy roots.

Q:How often should I use this treatment?
A: Once a week is recommend or as needed.

This product is rated 5.0 of 5.0 stars.
It has received 1 review.